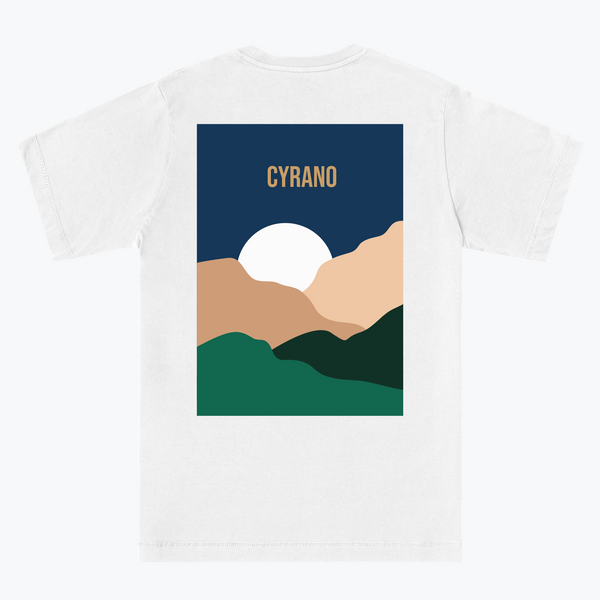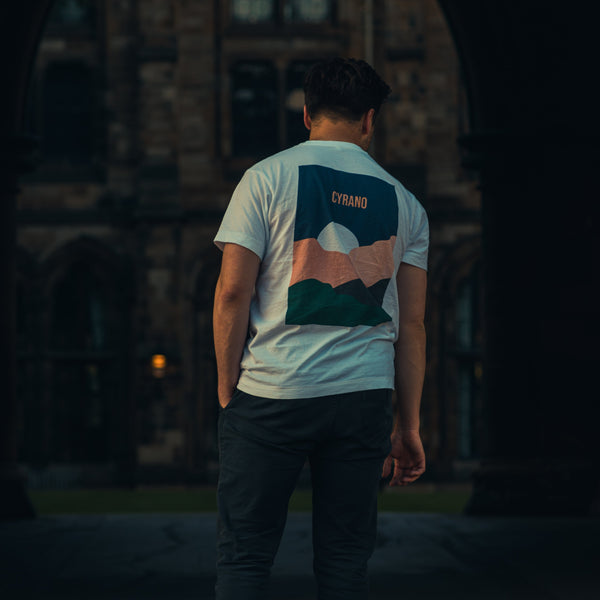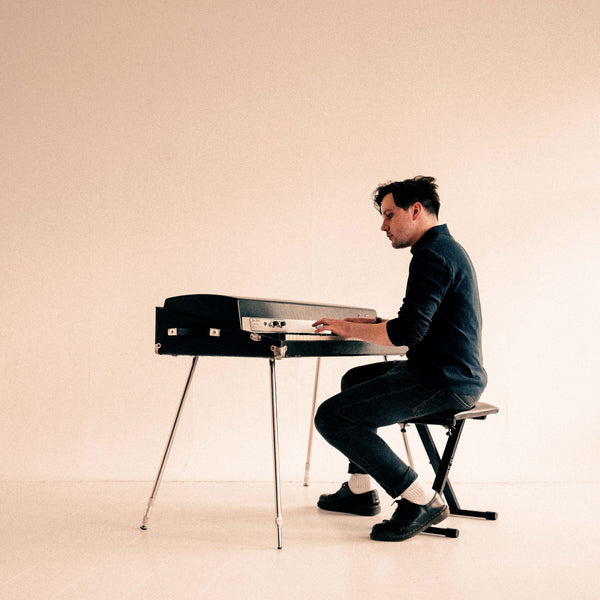 Cyrano T-Shirt (Back Print)
Thank you to Cyrano for this exclusive artwork, designed by Linnea Tjernberg and donated by the artist.
"Trekstock will always be special to me, having worked with Sophie and the team back in 2016. It's a real honour to join the Merch For Good series alongside some incredible artists and support such an important cause." - Cyrano
Cyrano is music for the late night overthinkers.
Dreamt up in his bedroom, the Edinburgh based producer has quickly established himself as the soundtrack to late nights and long drives since releasing his debut single 'White Wine' in 2021.
Throughout 2021, Cyrano released a selection of singles from his debut EP Consolations, including two mixes of the 6-minute heartbreaker, 'Afterburns'. The process of writing the meditative and dreamy track became a kind of therapy for Cyrano, lamenting the indecision in his relationship at the time. To accompany the release, Cyrano created a 12-question personality test for listeners to identify which mix of the track is best suited to them.
Co-produced alongside Foals' Kit Monteith and Luke Smith (FKA Twigs, Keaton Henson), Consolations carries us through multiple genres, fusing elements of ambient techno, 00s hip hop and left-field pop. The concept behind the EP was inspired by Alain de Botton's book 'The Consolations of Philosophy'. Cyrano discusses similar themes - from anxiety and depression, to love and growing older on this record and each track is written with the aim of consoling the listener.
In the downtime between his releases and touring the UK with Leif Erikson, Cyrano has returned to Safehouse Studios with Kit Monteith to begin recording on his next body of work. 
100% of profits from the sale of this tee go directly to Trekstock, to help young adults in their 20s or 30s living with, through and beyond cancer. 
This product is made to order. Unfortunately, that does mean that once it has been processed, we can no longer make any changes as your garments will have gone into production. Please make sure you check the guide and choose your size carefully.
SIZING
T-SHIRTS
| | | |
| --- | --- | --- |
| SIZE | CHEST | LENGTH |
| Small | 50 | 70 |
| Medium | 53 | 72 |
| Large | 56 | 74 |
| X-Large | 60 | 76 |
| 2XL | 64 | 78 |

All sizes are in CM
Chest measurements are pit-to-pit
SWEATSHIRTS
| | | |
| --- | --- | --- |
| SIZE | CHEST | LENGTH |
| Small | 52 | 68 |
| Medium | 56 | 71 |
| Large | 60 | 74 |
| X-Large | 64 | 77 |
| 2XL | 68 | 80 |

All sizes are in CM
Chest measurements are pit-to-pit
PRODUCT INFO
T-SHIRTS
The Continental N03 is a 100% cotton, regular cut and a quality construction that stands out when compared to some other cheaper basic garments. The N03 is true to size and Fair Wear and Oeko-Tex certified.
SWEATSHIRTS
Cut to a relaxed fit, the JH030 sweatshirt is made of 80% Ringspun cotton, 20% Polyester with a brushed inside and is accredited by Sedex and WRAP.
GARMENT CARE
Love your garment and it will love you back. Being gentle is easy and better for the planet, it also protects the print and helps maintain shape and colour for longer.
Wash garment inside out

Only wash your garment on a cold cycle

Do not tumble dry (it's the worst)

Iron your garment inside out
MANUFACTURE
All of our products are manufactured by Pins & Knuckles, who handle all printing and fulfillment here in the UK on behalf of Merch for Good. As many of our products are made to order, please allow 3-5 days manufacture time for your item(s).

Pins & Knuckles use ethically sourced materials and vetted production facilities / factory working conditions. Orders are packaged in recycled & recyclable mailing bags and are sent as 48hr tracked parcels via Royal Mail in the UK, and the equivalent with all other couriers.